If you are like 74% of the population, you might have a fat and protein metabolism, meaning your body doesn't utilize carbohydrates as well as fat and protein.
Related: Find out your metabolic type. Take Dr. Goglia's free quiz!
Now, that doesn't mean you should toss out your beloved carbs. Instead, Dr. Goglia suggests swapping in lower carb dinners, often saying that by dinner, "There should be no energy source food. People don't run a marathon after dinner. You don't need a potato at dinner."
If chicken and broccoli isn't your thing, we've provided you with a few recipes that will not disappoint. No boring or bland food here…Let's get cooking!
Zucchini Noodle Pasta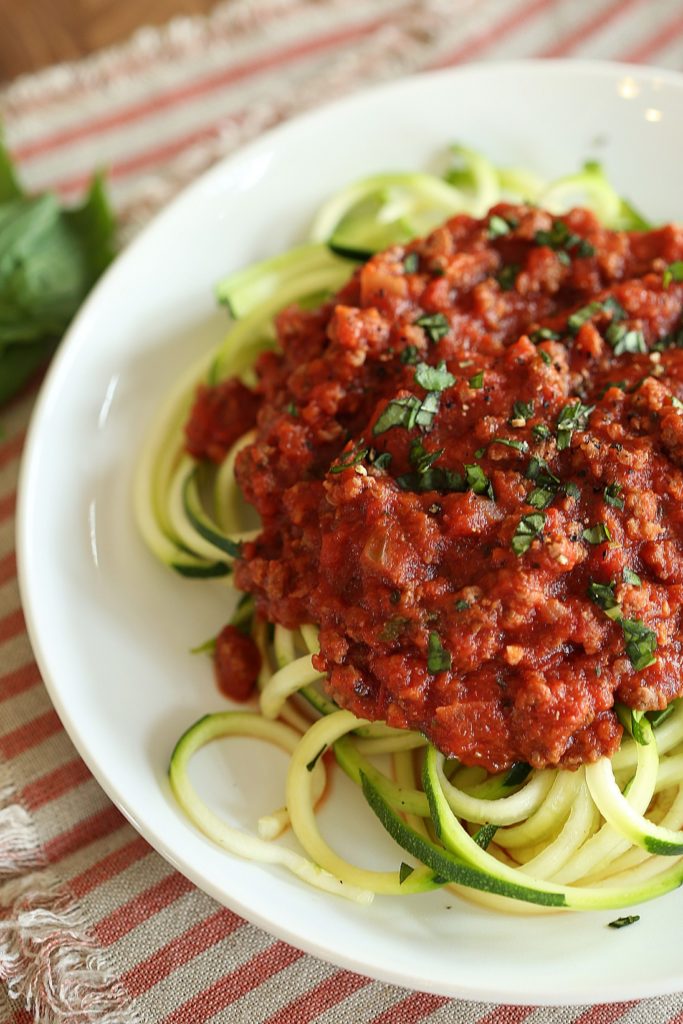 If pasta is your downfall, then we've got you covered. You may not be eating the real deal, but that doesn't mean you can't make your own faux pasta. Try using spiraled zucchini as your pasta, and your taste buds will be pleasantly surprised.
Ingredients (for 1 serving)
Cooking instructions:
Spiralize your zucchini and set aside. For the zoodles, drizzle olive oil in a large skillet over medium-high heat and saute garlic until fragrant. Add zucchini noodles and a touch of sea salt, and cook for about 1 to 2 minutes until tender.

Brown the ground turkey or beef, and add in your marinara sauce. If you are using store bought marinara sauce (look for one with less than 500mg sodium, and 5g of sugar). Heat meat sauce over medium heat and allow to simmer for 15-20 minutes.

Top zucchini noodles with sauce and enjoy!
Cauliflower Fried Rice

Cauliflower has become all the rage in the low carb world. Many grocery stores are already selling pre-made cauliflower rice! If you haven't given cauliflower rice a chance, it's time to give in with this recipe.
Ingredients (for 2 servings)
1 medium-sized head of cauliflower

1/2  tablespoons sesame oil

1/4 carrot, cubed

1 garlic cloves, minced

1/4  cup frozen edamame

2 beaten eggs (use scrambled tofu for vegan)

2 tablespoons low sodium soy sauce (use tamari for GF)

1 green onions, minced
Cooking instructions:
Using a food processor or blender, pulse cauliflower until it resembles small grains of rice. (Note: you can also buy cauliflower rice in the freezer section)

Heat 1/2 tbsp sesame oil in a large skillet over medium low heat. Add the carrots and garlic and stir fry until fragrant, about 5 minutes. Add the cauliflower and edamame. Cook for about 3-4 minutes, stirring frequently.

Lower the heat, and make a small opening in the middle of the pan. Add the eggs, and cook until eggs are fully cooked. Top it off with a sprinkle of green onions and some low sodium soy sauce.
Stuffed Bell Peppers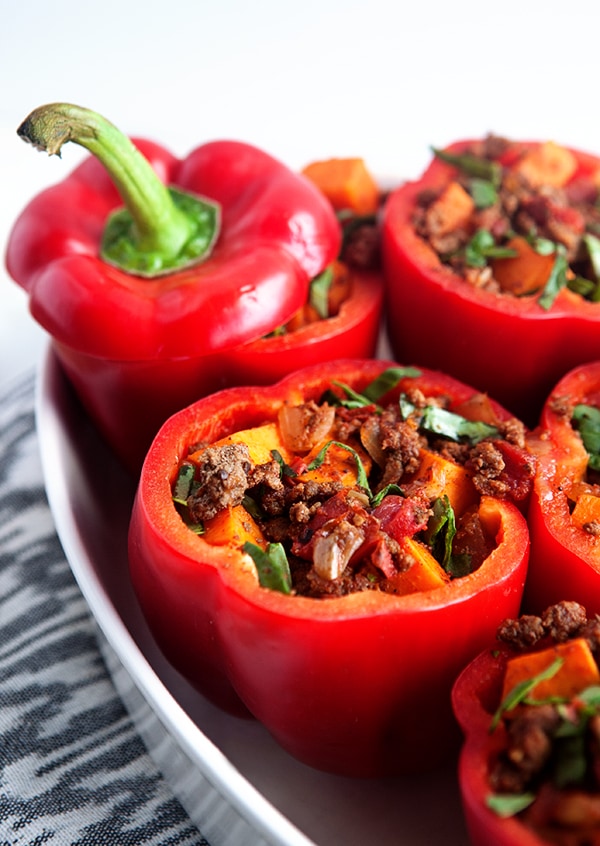 Bell peppers are more than just a side dish for your fajitas. Stuffed peppers are super simple to make, and the options are endless. Get creative with your own stuffings, or try our recipe below!
Ingredients (for 6 servings)
6 bell peppers

1lb lean ground beef

1 medium zucchini (chopped)

1/2 cup tomatoes (chopped)

1/4 cup diced onions

2-3 tbsp garlic powder

1 tbsp cumin

1 tsp coriander

salt and pepper
Cooking instructions:
Brown the ground beef in a pan with onions, and seasonings.  Add the garlic, chopped zucchini , tomatoes, and cook for 10- 15 minutes.

Preheat oven to 350ºF. Cut tops off of peppers and remove the insides. Stuff with beef mixture and bake on a baking pan for about 45 minutes. Add a little water to the pan to keep the peppers from shriveling up. Voila!
Want to know your metabolic type?
Get your results in minutes.