Experimenting with different spices in the kitchen is a great way to change up the flavor of your meal. It can be fun to experiment and figure out which flavors pair well with certain types of dishes. When you think of fall flavors, you probably think of cinnamon, but today we will discuss some other spices that are typically associated with the season of autumn. We will discuss their flavor profile, health benefits, and what they pair well with in the kitchen.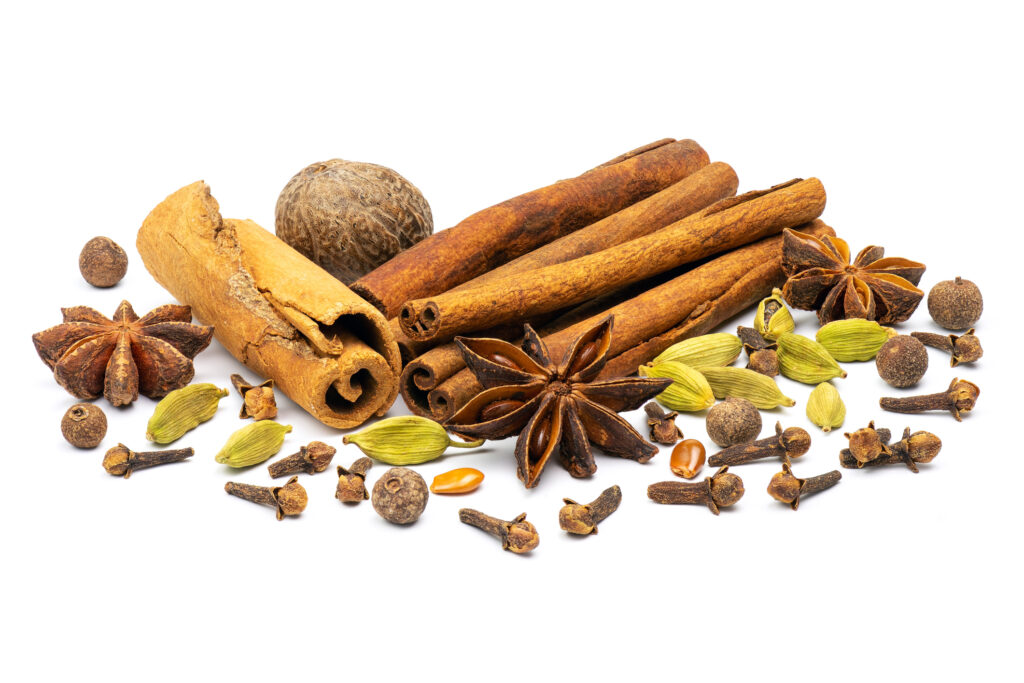 Cardamom
Flavor Profile: Complex aroma with notes of pine, floral, and mint. Cardamom is sweet and slightly spicy.
Cardamom is a spice that is pungent and warming. It starts out in the form of a pod, but you can also purchase it ground. Cardamom has anti-inflammatory and antioxidant properties. Because of the antioxidants cardamom contains, it may be beneficial in helping to lower blood pressure when it's elevated. Some studies indicate that cardamom can be beneficial in modulating blood sugar levels as well. Cardamom is commonly used in meat and rice dishes, especially curries. Cardamom pairs well with both sweet and savory meals. Many people also enjoy cardamom in their coffee, and it's an ingredient in garam masala, used to make chai tea.
Star Anise
Flavor Profile: Warm, sweet, and slightly spicy with hints of licorice
Star anise has antimicrobial properties, which means it will help support your immune system in fighting off infections. Star anise is traditionally used in savory recipes, such as meat dishes and soups. But star anise also pairs well with other sweet spices, such as cinnamon.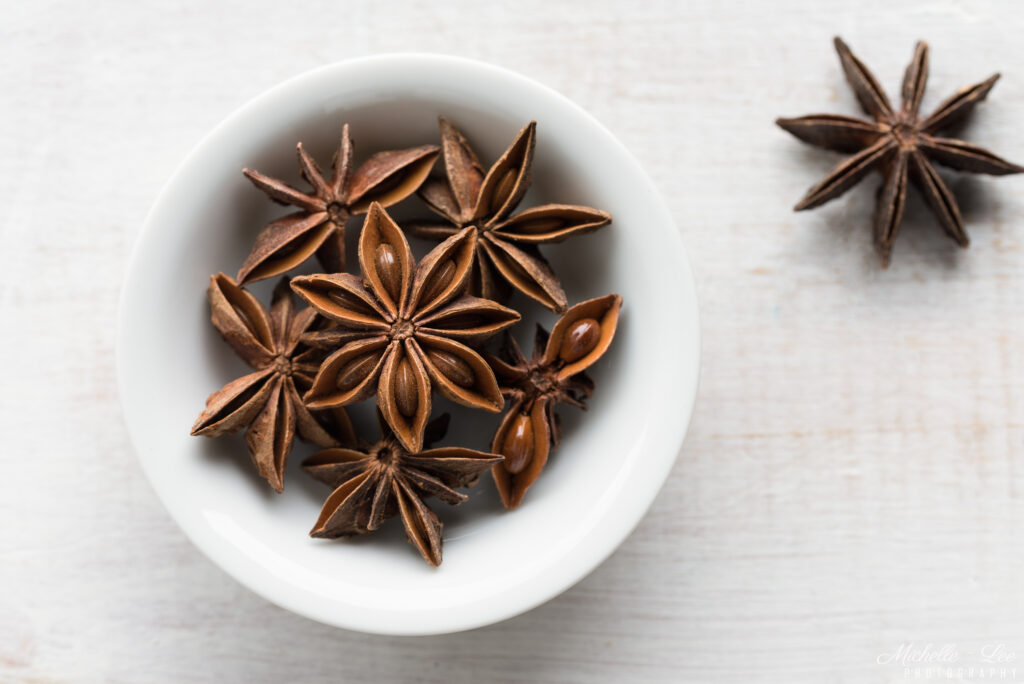 Cloves
Flavor Profile: Pungent, warm, slightly sweet and astringent
Cloves help promote serotonin production in the body. Serotonin is a neurotransmitter that helps promote a good mood, as well as ease anxiety and depression. Cloves are commonly used in meat rubs and marinades, and also pair well in curries and chutneys. It is also one of the many spices used in Vietnamese pho. You may be more familiar with cloves if you drink warm apple cider in the fall months, as it's a common ingredient in mulling spice blends.
Nutmeg
Flavor Profile: Rich, warm aroma, slightly sweet and nutty with woody undertones 
Nutmeg is rich in antioxidants, which means it will help prevent cellular damage in the body.  Nutmeg is commonly used in baking, such as in apple and pumpkin pies, as well as cookies and muffins. It is also an ingredient commonly used in eggnog. Sprinkling a little bit of nutmeg into oatmeal along with cinnamon is another great way to utilize this spice. Another fall favorite is stewing or baking apples and sprinkling a cinnamon and nutmeg combo on top. You can even drink nutmeg tea or add it to your coffee.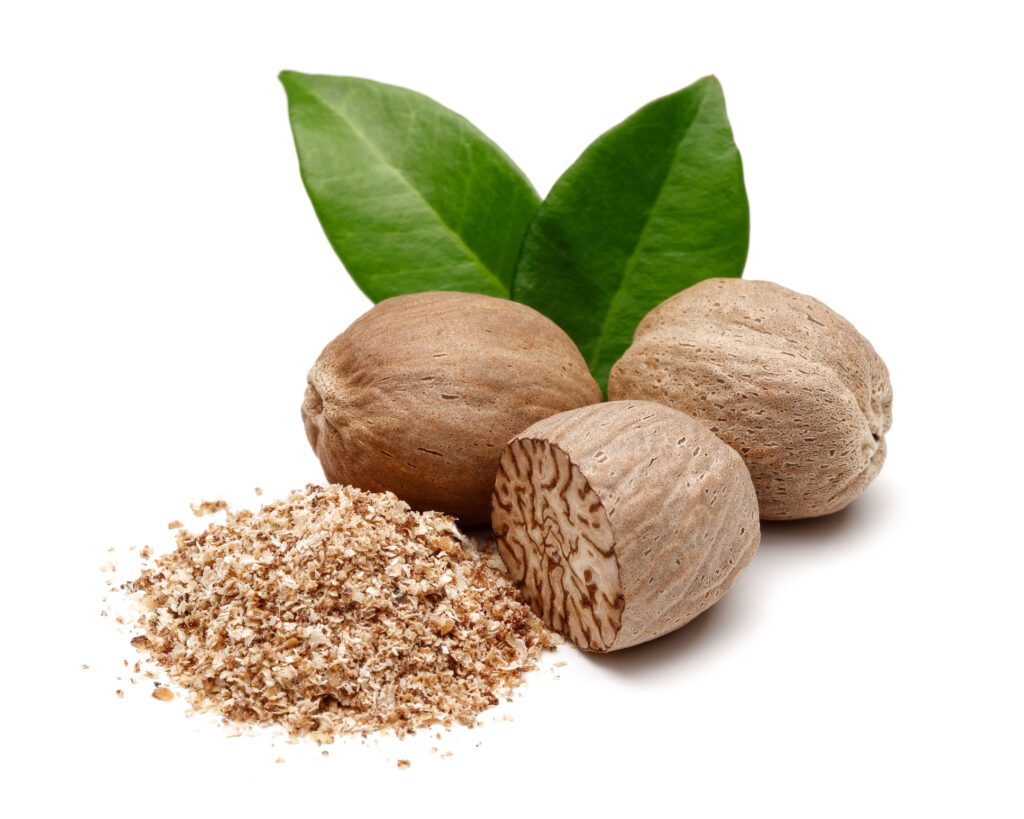 Allspice
Flavor Profile: Aromatic and warming, tastes like a mix of cinnamon, nutmeg, cloves, and pepper.
Allspice is derived from the dried berries of a plant in the myrtle family.  Allspice has immune boosting and antimicrobial properties. It also has anti-inflammatory properties as well. Allspice is used in a variety of recipes that are both sweet and savory. Jamaican jerk seasoning contains allspice, and it is also commonly used in beef stews. This fall, you can try adding some ground allspice on some roasted root veggies, such as butternut squash or sweet potatoes.