Smoothies, smoothie & acai bowls, and protein shakes seem to be all the rage these days and are often promoted as a healthy option when you're on the go!
While smoothies CAN be healthy, unfortunately many conventional and store-bought smoothies are made with fruit-flavored syrups, juice, and few real health benefits. Even the smoothies that do contain real fruit are often lacking fiber, healthy fats or protein. All of which help to slow the digestion of the smoothie into your bloodstream. What happens when you drink a smoothie that is essentially just carbohydrates is a big spike in blood sugar, which we want to avoid.
Hopefully after reading the following information, you'll be a healthy smoothie whizzing wizard in no time!
Let's take a deeper look at a couple smoothie options that sound healthy but really don't do you any favors: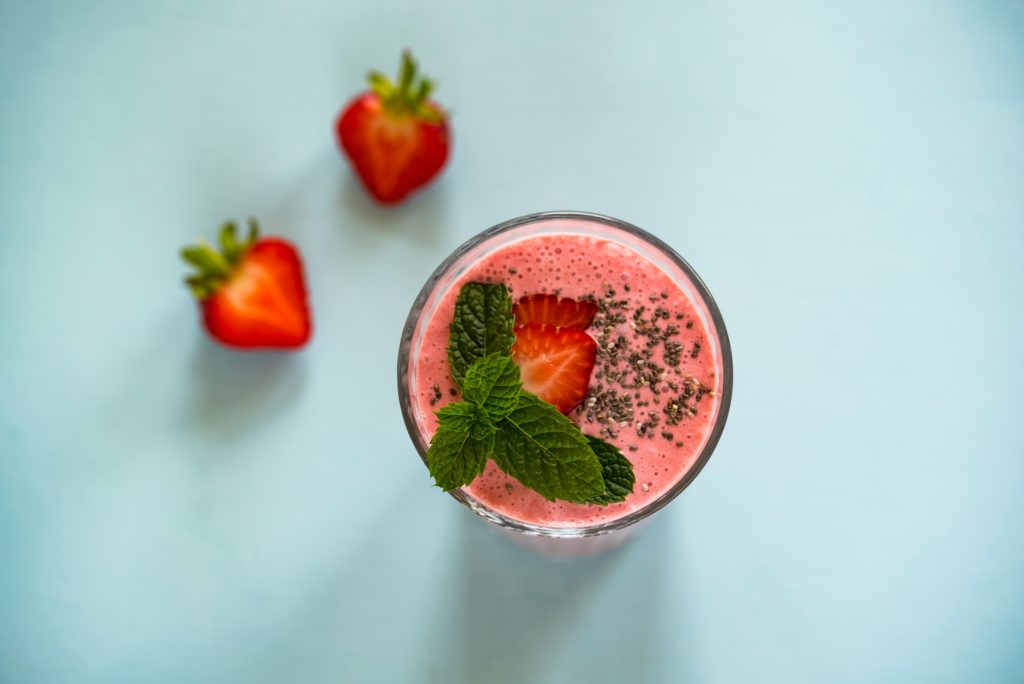 Naked Pure Fruit Mighty Mango Juice Smoothie:
Commonly available at conventional grocery stores and health food stores, Naked Juice is a delicious classic! Let's look at the ingredients and macronutrients:
Ingredients: Mango puree, apple juice, orange juice, banana puree, lemon juice, natural flavor, beta carotene
Macronutrients for a 16oz bottle: 0g fat, 0g fiber, 2g protein, and a whopping 68g of carbohydrates and 57g sugar. 
That is FAR more sugar than the recommended daily amount and is equivalent to eating 14 tsp or almost 5 tbsp of sugar! Even though the ingredients may be all-natural, in terms of how it is metabolized by the body, it's not much different than drinking 1 ½ cans of soda or eating 1.5 cups of pure white rice.
Jamba Juice Pumpkin Smash Classic: 
Yum! Nothing more delicious than a fall-inspired smoothie, right? Let's look inside:
Ingredients: 2% Milk (Reduced Fat Milk, Vitamin A Palmitate, Vitamin D3), Pumpkin Spice Flavor Base (Pumpkin, Sugar, Invert Sugar Syrup , Annatto Extract [color], Salt, Lemon Juice Concentrate, Natural Flavor, Locust Bean Gum, Cinnamon, Nutmeg), Fat Free Vanilla Frozen Yogurt (Skim Milk, Sugar, Whey, 2% or less of Natural Flavors, Corn Syrup , Lactic Acid, Vinegar, Whey Protein Concentrate, Mono-and Diglycerides, Locust Bean Gum, Guar Gum, Carrageenan, Annatto Extract [color], Cultures), Ice.
Macronutrients for 22oz (medium): 4g fat, 1g fiber, 13g protein, and 95g carbohydrates and 86g of sugar. 
Not only are the ingredients pretty scary, but 86g of sugar is equivalent to nearly 21 tsp of sugar, or about 7 tbsp. Yikes!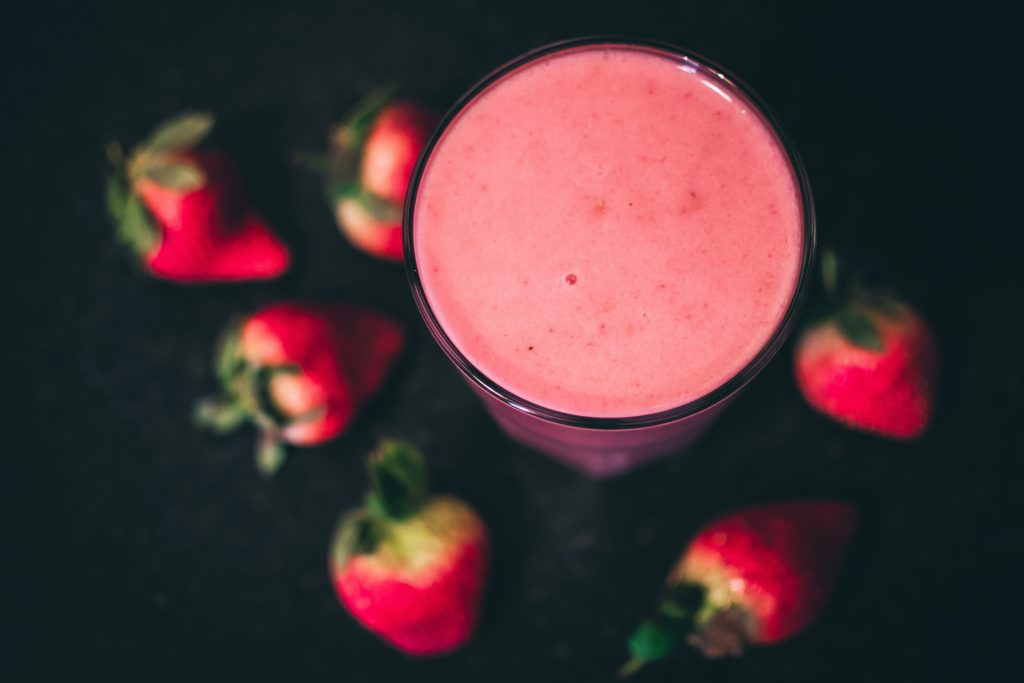 Instead of those sugar-laden, blood sugar spiking options, here are some awesome smoothie additions that are nutritious AND delicious:
Fresh or frozen fruit:

berries are loaded with antioxidants and fiber, and my help to lower cholesterol, fight inflammation, improve blood sugar levels, and protect against disease

Flax seed:

High in omega-3 fatty acids, this tiny powerhouse is rich in fiber and helps to improve cholesterol levels, lower blood pressure, balance blood sugar, and balance hormones.

Avocado:

Not only does avocado make smoothies incredibly creamy, but it contains 20 vitamins and nutrients, heart healthy fat, antioxidants.The fat content helps your body absorb the nutrients in other plant foods!

Nut or Nut butter:

Nuts are packed with vitamins, minerals, fiber, omega-3 fatty acids, antioxidants, and contribute to satiety and a healthy lipid profile.

Greens:

Low in calories, packed with nutrients! Leafy greens reduce inflammation, support gut and immune health, improve digestion, lower disease risk, and help balance blood sugar

Pumpkin Puree:

Contains carotenoids, beta carotene, antioxidants, fiber, Vitamins A, C, E, folate, and iron.

Cocoa Powder:

Contains polyphenols, which improve heart and brain function, improve cholesterol and blood sugar, and reduce inflammation.
Protein powder or plain fat-free Greek yogurt: Protein powder or Greek yogurt add a complete source of protein to your smoothie to make it a full meal, keep you satiated and energized, and slow the digestion into the bloodstream.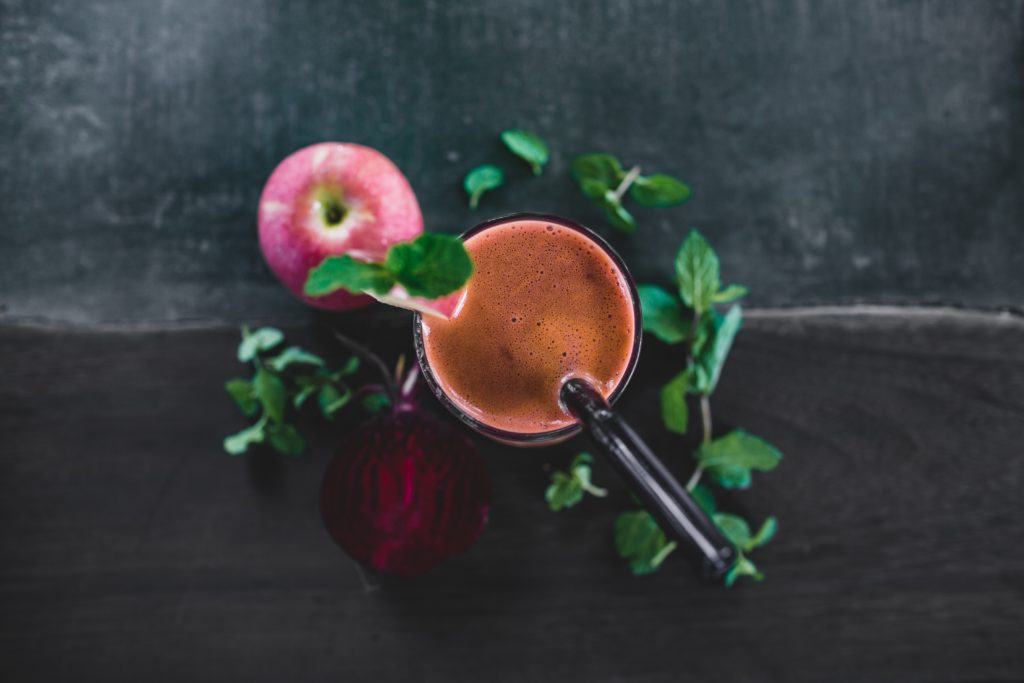 With these ingredients in mind, here are some delicious smoothie recipes that are high in nutrients and flavor, and much lower in sugar! 
For both smoothies, add all ingredients to a high-speed blender with 1 cup of ice and  1 cup of unsweetened non-dairy milk.  Blend until smooth. Feel free to adjust ingredients to meet your taste preferences and dietary needs!
Pumpkin Spice Protein Smoothie 
1/2 scoop protein powder

1/2 cup pumpkin puree

1 tsp pumpkin pie spice

1-2 cups spinach

1/4 cup oats

2 tbsp flax seed

1/2 oz nuts of choice
Macros: 359 calories: 15g fat, 33.5g carbs, 5.67g fiber, 4.5g sugar, 24g protein
Chocolate Banana Protein Smoothie: 
1/2 scoop protein

5oz avocado

1 tbsp cocoa powder

2 cups spinach

2 tbsp flax

1 medium banana

2 tbsp powdered peanut butter
Macros: 385 calories: 13g fat, 45g carbs, 11g fiber, 16g sugar, 25g protein