Ahhhh, September. The season of sweater weather, apple orchards, crisp fall air, changing leaves, and pumpkin-spice flavored everything. While there is no denying the satisfaction and pure deliciousness of pumpkin-flavored beverages and treats, they are oftentimes laden with sugar, saturated fat, and artificial flavors that can derail your diet and your health.
Fortunately for pumpkin-lovers everywhere, REAL pumpkin is packed full of nutrients, and there is no reason you can't enjoy the pleasure of pumpkin while also maintaining a healthy diet!
Benefits of pumpkin:
– Rich in carotenoids and beta-carotene, which promote healthy skin and eyesight
– High in antioxidants, which helps to fight off free radicals and chronic disease
– Rich in Vitamins A, C, E, folate, and iron, all of which boost your immune system and help prevent illness
– Low in calories, high in fiber! 1 cup of fresh pumpkin or 1/2 cup of pumpkin purée contains 50 calories and 3g of fiber.
Since pumpkin is such a versatile, nutritious food to add to your diet, below are some delicious fall-inspired recipes that are grain-free, gluten-free, dairy-free, and low in sugar but packed full of flavor!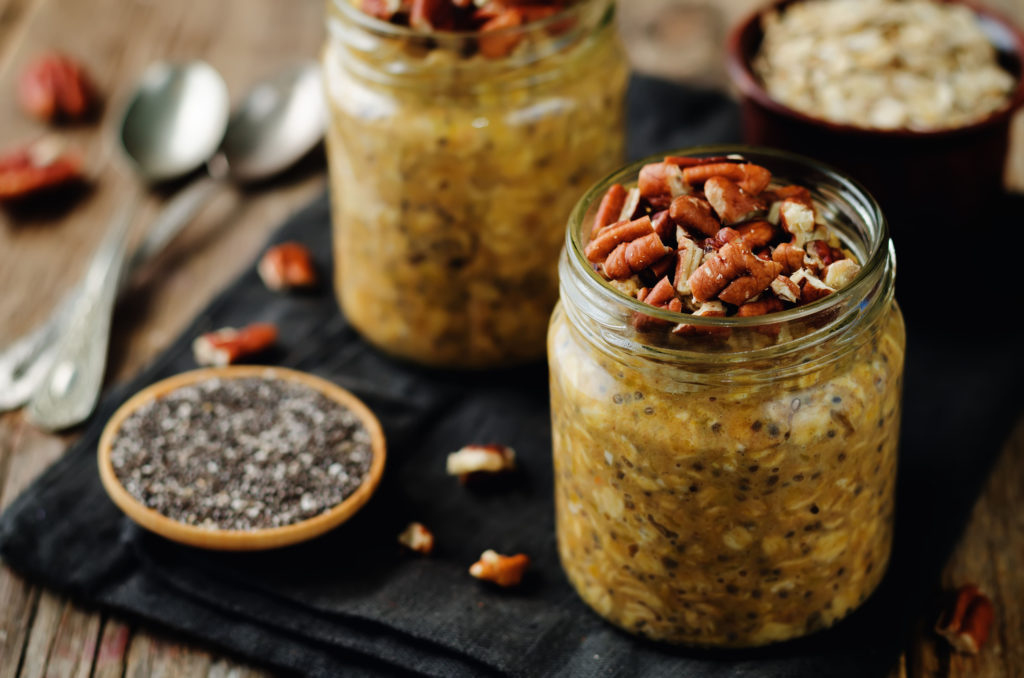 Pumpkin Spice Overnight Oats:
Start off your day with a fall-inspired breakfast full of protein, fiber, and healthy fats to boost your energy and power you through the morning!
1/2 cup rolled oats
1 cup unsweetened non-dairy milk
2 tbsp pumpkin puree
1/4 cup grated zucchini
2 tbsp flax or chia seed
1 tsp maple syrup
stevia to taste
½ scoop protein powder or collagen peptides
¼ – ½ tsp pumpkin pie spice
2 tbsp pecans, walnuts, or nut butter
Directions: Mix together all ingredients except for the nuts in a mason jar or glass container at least 4 hours prior to eating. When ready to enjoy, sprinkle the nuts on top, and dig in!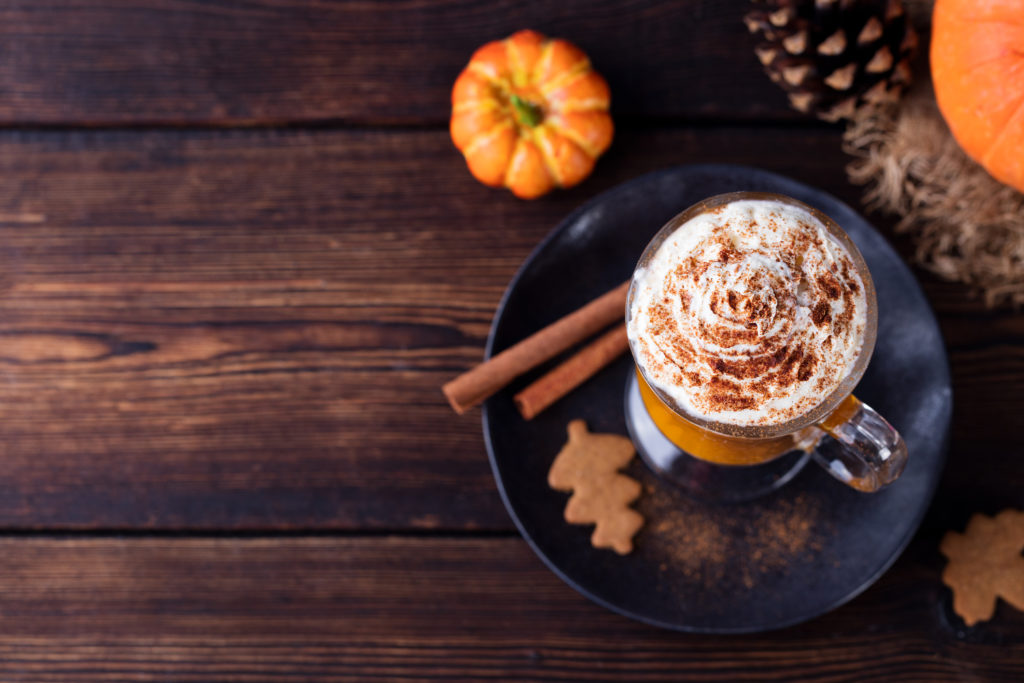 Health-ified Pumpkin Spice Latte:
This pumpkin spice latte clocks in at only 60 calories, with no added sugar, 2g of fat, and all recognizable ingredients. On the contrary, a Grande Starbucks PSL contains a whopping 380 calories, including 14g of fat and FIFTY grams of sugar, along with some unrecognizable food additives you would not want in your pantry!
Ingredients:
2/3 cup unsweetened non-dairy milk
2 tbsp canned pumpkin
stevia to taste
1/2 tsp pure vanilla extract
1/2 tsp pumpkin pice spice
1/2 cup hot coffee
*optional: For a protein and nutrient boost, try adding a scoop of vanilla collagen peptides!
Directions:
1. In a saucepan, whisk together almond milk, pumpkin, stevia over medium heat, stirring constantly until steaming. Remove from heat, stir in vanilla extract and pumpkin pie spice. Transfer to a blender and process for 15 seconds until foamy. If you don't have a blender, don't worry about it. Just whisk the mixture continuously with a wire whisk until foamy.
2. Pour into a large mug. Add hot coffee on top. Sprinkle with a dash of pumpkin pie spice or cinnamon, if desired. Enjoy!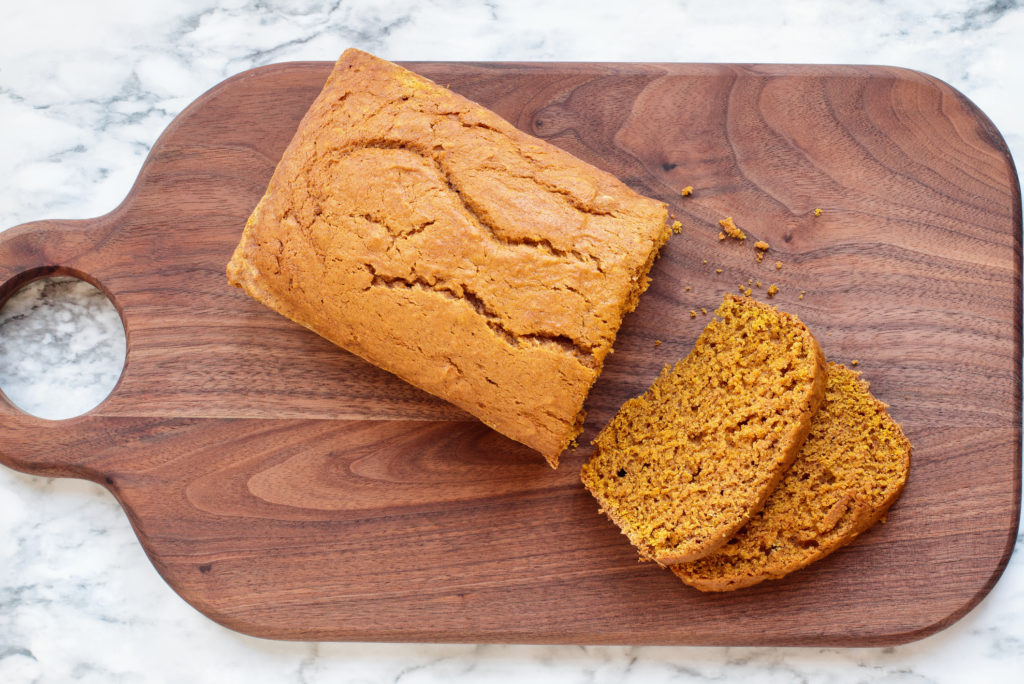 Paleo Pumpkin Bread 
There is nothing quite like the scrumptious smell of pumpkin bread wafting from the oven, giving off major fall vibes. What if you could enjoy a warm slice of pumpkin bread while feeling good about its ingredients? Now you can! This recipe is packed with fiber, low in carbs and sugar, and 100% healthy-diet friendly.
Ingredients:  
1/4 cup coconut flour
1 cup blanched almond flour
1 teaspoon ground cinnamon
1/2 teaspoon baking soda
1/2 teaspoon fine grain sea salt
1/2 teaspoon pumpkin pie spice
1/4 teaspoon ground cloves
1 cup erythritol, monk fruit sweetener, baking stevia, or monk fruit sweetener
1/2 cup canned pumpkin puree
1/3 cup coconut oil (melted)
3 tablespoons full fat coconut milk
1 teaspoon pure vanilla extract
1 vanilla bean
4 large eggs
Directions:
Adjust an oven rack to the middle position and preheat the oven to 325°F (162°C). Line the bottom of a 9 by 5-inch (23 by 12.75-cm) glass loaf pan with parchment paper; set aside.
Combine the flours, cinnamon, baking soda, salt, pumpkin pie spice, cloves, and coconut sugar in the bowl of a large food processor. Pulse 10 times or until mixed. Then add the pumpkin puree, coconut oil, coconut milk, vanilla bean seeds or extract, and eggs and process for 30 seconds or until combined. Scrape down the sides and process again if needed.
Use a rubber spatula to transfer the mixture to the parchment-lined loaf pan. Bake for 70 to 75 minutes or until a toothpick inserted into the center comes out clean. Let cool in the pan for 15 minutes, then use a knife to loosen the bread from the sides of the pan. Remove the loaf from the pan by lifting the parchment paper. Let cool completely before slicing and serving.